There are about 80 countries, worldwide, that have some type of National Lottery; and multiple lottery products exist in many countries. Within some countries lotteries are sanctioned by regional, state, provincial, territorial, etc. level governments [source: Lotteries by country, Wikipedia].
Funding to sport
National lottery funding for sport is an established practice internationally, with dedicated proceeds in many countries going to support government investment in sport (e.g. events, infrastructure, programs, athletes).
High performance
The potential impact of lottery funding as a contributor to enhancing international competitiveness in sport is best illustrated by the success of the United Kingdom (Team GB) at Olympic and Paralympic Games since the introduction of National Lottery contributions to sport funding in 1997.
Risk
Any form of gambling (legal or otherwise) presents potential risks that some degree of social or personal harm may result.
There are a number of different 'lottery' systems – the common element being the sale of a lottery product (usually a ticket) with the prospect of substantial reward for the winner, based upon chance.
Popular lottery systems used for the purpose of sports funding are:
a finite number of tickets to be sold prior to a prize draw;
a regular (usually weekly) game, with the prize draw irrespective of the number of tickets sold;
instant prizes identified at the point of ticket sale (e.g. scratch and win);
selection of multiple winning teams from a week's sport fixtures, with a points-based scoring system determining the prize pool (e.g. 'football pools'); and,
consumers selecting a set of numbers from a given matrix of numbers (or the purchase of a randomly selected set of numbers) to enter a random draw of numbers from the given matrix.
Some systems use the term 'lottery' for games that may not rely entirely upon the element of chance (i.e. an element of knowledge or skill can be used in predicting results) – these alternative systems will not be considered in this discussion.
The exact number of countries where a National Lottery contributes some revenue to sport is unclear. However, many countries that compete favourably at the Olympic and Paralympic Games have a component of sport funding from National Lottery sources, including 24 EU nations; Brazil; Canada; China; Japan; New Zealand; South Korea; and, Switzerland.
The rationale for directing proceeds (part/all) from a National Lottery to sport has generally focused on four main themes:
to provide long-term financial security for national sporting associations;
to assist Olympic, Paralympic and Commonwealth Games organisations with their fundraising;
to assist some of the 'lesser known' sports with funding that is critical to their development; and,
to increase the capacity of grassroots sports to deliver a number of personal and social benefits (e.g. health outcomes, inclusion, community cohesion, etc.).
The strongest argument for the establishment of a National Lottery, with proceeds dedicated to 'worthy causes' (e.g. sport, cultural, heritage projects, etc.) is the potential for a non-government revenue stream into those sectors. While acknowledging there would be debate regarding which sports or projects could receive funding, how much they receive, and toward what purpose (e.g. high performance or grassroots programs), there may be other potential impacts of adopting a sports lottery. The flow-on of non-government funding sources might affect state and local government priorities. Would lottery revenue be used to 'top-up' state and local funding of sport, or replace it (particularly for facility and infrastructure projects)?
There is also opposition to National Lotteries; general concerns include:
jurisdiction oversight;
fund priorities; and,
ethical concerns related to the promotion of gambling in sport and gambling more generally.
Many of our attitudes about the value or usefulness of lotteries are based upon our perception regarding participation (i.e. purchase of a lottery ticket) – whether this is gambling (which may be an addictive behaviour for some individuals) or a consumer decision (i.e. discretionary entertainment spending)?
Sports gambling as consumption: Evidence from demand for sports lottery, Mao L, Zhang J and Connaughton D, Sport Management Review, Volume 18(3), (2015). This report analyses the determinants of sports lottery demand in China. Scholars working in the disciplines of psychology, economics, and sociology, have explored the phenomenon of lotteries. There are two broad theories put forward: (1) that lottery play is motivated by the prospect of gaining 'something for nothing' as a form of gambling; and, (2) that lottery play is a consumer activity that is an expression of allegiance with a team or sports in general.
There are also perceptual differences, as well as common ethical issues, between 'gambling' on a National Lottery, 'gambling' on sport, and 'gambling' more generally. Purchase of a lottery ticket is seen as 'gambling' on a random outcome, not on the outcome of a sporting contest; although sport may be a beneficiary of the proceeds. Legal betting on sports events is permitted (within an established framework) by governments, who receive a tax benefit. Other associations between gambling and sport (i.e. advertising, sponsorship, endorsement, etc.) provide significant financial benefit to some sporting organisations. Any association between sport and 'gambling' will present ethical dilemmas for the sport sector.
In December 2018 the Play for Purpose charity sport raffle was launched. Play for Purpose is a not-for-profit online raffle supported by the 50-50 Foundation, Tabcorp and the Australian Sports Foundation (ASF), and endorsed by Sport Australia (formerly the Australian Sports Commission). The need for more diverse funding sources was identified in the Australian Government's national sport plan, Sport 2030, and the new raffle is aimed at helping to fulfil that need. Clubs will not be charged to participate in the raffle and a minimum of AU$5 from every $10 ticket will go to club based charitable sporting projects. Funds raised through Play For Purpose must be used for charitable sporting projects.
Prior to the launch of Play for Purpose there had been a long history of attempts to develop a national lottery for the Australian sport sector starting with a commercial proposal provided to the Australian Government in 1979. The proposal was subject to the adoption of a legislative framework however, no action was taken at the time.
The issue of a national lottery was discussed again in 1983 by the House of Representatives Standing Committee on Expenditure, during its inquiry into Federal Government assistance to sport and recreation.
The Committee conceded that there was some support for the idea of a lottery but that States were unenthusiastic about the idea, as they considered it would inevitably erode their own lottery revenue potential. Lotteries in Australia have historically been under the legislative control of State Governments. The Department of Finance advised the Standing Committee that legislative backing would be needed if the Federal Government were to enter into lotteries. There appears to be no provision in the Australian Constitution that grants power to the Commonwealth, with respect to lotteries.
The 1983 Committee agreed with the assessment that a national lottery was not feasible without the backing of the States; but even if that were to be realised, the Committee was not inclined to recommend a lottery proposal. The government of the day was unconvinced that sport and recreation had a high enough priority to warrant preferred treatment over other areas of need, such as health and welfare.
The Department of Finance listed other possible problems if the Federal Government established a National Lottery which included sport: (1) funds for sport would be determined by subscriptions to the lottery, not by the needs of the sporting community or by the government's priorities; (2) funding sport through a lottery would put sport in a preferred position over other expenditure proposals; and (3) there was potential for wasteful and unnecessary spending in the sport portfolio. The Department of Finance concluded that there was no compelling reason to set sport aside from other worthy programs in this manner. [source: Sports funding: Federal balancing act]
In 1983/84 An Interim Committee was established to look at the underpinning rationale for the role of an Australian Sports Commission. The Interim Committee's report, Chapter 7, 'Supplementary Funding' looked at various options to supplement direct government funding of sport, through the Commission. Recommendations regarding funding options had been made in the House of Representatives Committee report The Way We P(L)AY (1983), these were also considered by the Interim Committee, commenting that the findings of the House of Representatives report are open to debate. The Interim Committee appreciated the work that had already been devoted to investigating the option of lottery funding for sport (i.e. reported in The Way We P(L)AY) and recommended that a 'Sportbonds' concept was worthy of further study.
In 1993 Sydney was awarded the 2000 Olympic and Paralympic Games. During the lead-up to the Games the idea of a National Lottery, with dedicated proceeds to sport, gained popularity.
In 1995 a proposal to introduce a National Lottery to assist with the staging of the Sydney Olympics was raised before another House of Representatives committee.
At the time it was unclear whether an Australian National Lottery would tap uncommitted sources of money, given the plethora of gambling opportunities already available to the public. It seems intuitive that a National Lottery could divert funds away from other beneficiaries and thereby deprive the States and Territories of tax revenue.
Research (principally from the United States) has shown that Lottery sales, and their subsequent tax revenue, can remain stable over long periods of time. This research also suggests that lottery tax revenue remains stable during periods of both general economic growth and recession.
Prior to the Sydney Olympics a Sport 2000 Task Force was formed to review the state of sport in Australia. One of the Task Force's terms of reference was to investigate sources of 'off budget' funding for sport. The Task Force considered a number of options for supplementary funding and looked at a National Lottery system, but rejected the idea because of the possible social and economic implications of gaming, as well as possible constitutional impediments.
As the Sydney Olympics approached, the Task Force again looked at the lottery funding issue and concluded that additional sources of revenue, apart from government appropriations, would benefit sport; but the Task Force also agreed with previous evaluations that constitutional validity could be an obstacle to a National Lottery.
In 2008, the (then) Minister for Sport, Hon. Kate Ellis MP, stated (with reference to a federal sports lottery) "with the different State and Federal jurisdictions, that would have been not possible by the government at the time, but one thing I am very keen to do, and we've announced a process, to look at ways we can broaden the funding base for Australian sport, and I doubt very much that that will come up with a lottery being a viable option for us, but I do hope that there's ways that we can restructure the current system, so that we can get as many dollars going towards our athletes as possible." [Source: Lottery sports funding is not an option: Ellis, ABC AM Program, (19 August 2008)]
The Crawford Review (2009) looked at the structure of Australian sport. This review iterated the findings of previous inquiries on the issue of a National Sport Lottery; highlighting the constitutional hurdles. The Crawford Review concluded there were enough opportunities available for people to engage in gambling, so another lottery was not warranted. The Crawford Review made a number of recommendations regarding responsibilities for program funding, including: (1) for elite sport, the Australian Government should be responsible for support of national level programs; (2) State and Territory Governments should be responsible for state and territory level programs and collaborate with local governments for developmental programs; and (3) sports funding should be maintained at existing levels.
The 2010 Australian government policy document, Australian Sport: the pathway to success (p.22), provides a response to the Independent Review's (i.e. Crawford) recommendation 8.4, "The Australian Government should not introduce a national sports lottery at this stage, but should negotiate with state and territory governments to provide a share of existing lottery revenue for sport and recreation facilities and programs." The Australian Government agreed that a National Sports Lottery was not warranted at that stage.
Within the past two years, advocacy for a National Sports Lottery as a funding source for Australian sport has been taken-up by the Chairman of Sport Australia, John Wylie AM. Mr Wylie has commented on the need for Australia to provide adequate funding for international sporting success, particularly at Olympic and Paralympic Games.
"For Australia to maintain its record of elite success, there's no doubt we will need more funding over time. Other countries are investing more and the environment is much more competitive, and we owe it to our athletes to provide the necessary support. More funding will be needed and we have to think about where that funding will come from, so we want to look at a sports lottery. We are going to look at it very, very seriously. Many other countries have the benefit of funding from a lottery, including some of our closest competitors".

John Wylie AM 'Australian Sports Commission pushes lottery to drive success', Jeffery N, The Australian, 28 November 2015
Case studies
Western Australia's Department of Local Government, Sport and Cultural Industries supports the development of a sustainable and diverse sport and recreation system that encourages participation, develops talent, and contributes to the health and wellbeing of individuals and groups in the state. Significant (although not complete) funding is provided by Lotterywest through the Sports Lotteries Account.
Legislative authority for Lotterywest was established under the Lotteries Commission Act 1990, which requires 5% of net subscriptions be made available to the Ministry for Sport and Recreation. In 2019 this represented AUD$13.8 million [source: Annual Report 2018/2019, Department of Local Government, Sport and Cultural Industries, West Australia Government].
In addition, the Gambling and Wagering Commission Act 1987 allows for distribution of funds to the Department's Sports Wagering Account for use on physical activity programs, research, and initiatives to increase participation. A point of consumption tax was introduced on 1 January 2019 to replace the tax regime that previously applied to wagering in Western Australia. As well as simplifying wagering taxes, the new tax regime ensures online wagering operators pay tax on wagering conducted in Western Australia. Under the new regime AUD$13 million was contributed to the Sports Wagering Account from 2018-2019 to 2021-2022 to support community sport and recreation.
Australia
There had been a long history of attempts to develop a national lottery for the Australian sport sector.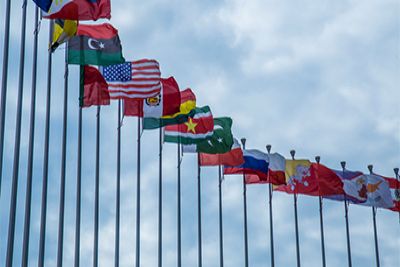 International
The Interprovincial Lottery Corporation operates lottery games in Canada on behalf of the Provincial Governments. It is owned jointly by the five provincial lottery commissions: Atlantic (jurisdictions of Newfoundland and Labrador, Nova Scotia, as well as Prince Edward Island and New Brunswick); British Columbia Lottery Corporation; Ontario Lottery and Gaming Corporation, Lotto-Quebec, and; Western Canada Lottery Corporation (Manitoba, Saskatchewan, Alberta, Northwest Territories and the Yukon). Each provincial organisation is responsible for marketing the national games within its own jurisdiction, and revenues are returned to each province in proportion to generated sales. The province of Saskatchewan has a Lotteries Trust Fund for Sport, Culture and Recreation, established as Sask Sport Inc., pursuant to the Interprovincial Lotteries Act (1974). Lottery funding supports a grants system to eligible, non-profit volunteer organisations in the areas of sport, culture and recreation. The Trust distributes funds to more than 1200 organisations, as well as support for nine Sport, Culture and Recreation Districts within the province.
For example, the lottery-funded system is delivered to the people of Saskatchewan through three independent community partners; Sask Sport, Inc., Saskatchewan Parks and Recreation Association Inc. and SaskCulture, Inc.; collectively they represent hundreds of community organisations and ensure that lottery funds benefit communities. In 2019/20 grants to beneficiary organisations in Saskatchewan (across all three sectors) were CAD$55 million from total lottery proceeds of approximately CAD$61.8 million. The proportion of lottery funding going to 'sport' (as separate from culture and recreation activities) was CAD$28.7 million [source: Saskatchewan Lotteries Trust Fund, 2019-20 Progress Report].
Sask Sport funds a wide range of grant programs, awards and scholarships, including: Kidsport, Aboriginal Sport Development, Saskatchewan Sport Awards, grant applications from over 90 sport organisations, 9 district associations, sport equipment grants program, and an individual athlete scholarship program.
In the Canadian province of Alberta, the Alberta Sport Connection (formerly the Alberta Sport, Recreation, Parks & Wildlife Foundation) is the organisation distributing Lottery funds. They fund (similar to Sask Sport) a wide range of programs and organisations within their jurisdiction.
The end doesn't always justify the means: Public support for funding amateur sports and recreation using Alberta Lottery fund monies (abstract), Walker G, Mason D, Johnson B and Whitehead J, World Leisure Journal, Volume 50(4), pp.285-294, (2008). This study examines the public's willingness to fund amateur sports and recreation using gambling monies in the province of Alberta, Canada. The study also tried to determine whether Albertans believe that current funding levels were sufficient, deficient, or excessive. A survey (N=759) of Albertans showed that slightly more than half the respondents supported the use of gambling monies for sport and recreation. Responses varied by sex, age, education, religious and moral beliefs.
The British Columbia Lottery Corporation and the Vancouver Organizing Committee for the 2010 Olympic and Paralympic Winter Games launched a suite of lottery games in 2006 to raise money for the Games and amateur sport in B.C. Actual revenue did not meet projections and the lottery was discontinued after one year.
The Canadian Government also ran a sports lottery in the years preceding the 1976 Montreal Olympic Games that contributed CAD$235 million toward the Games and CAD$25 million to amateur sports in Canada [source: Montreal 1976: Legacy of the Olympic Games in Montreal, Guay M, Association Olympique Canadienne, (1996)].
In 1989 a sports lottery was introduced in China for the purpose of funding the 11th Asian Games. In 1994 the Sports Lottery Management Centre, under the State Physical Culture Administration, was established with branch offices in provinces and cities. Other than the two government sponsored lotteries (Welfare Lottery and Sports Lottery), all other forms of gambling are illegal in mainland China. A nationwide lottery-selling network was established and the sports lottery was brought under standardized management. In recent years the sports lottery has taken on a more general role in raising funds. In 2012 the Sports Lottery generated ¥110.5 billion in profit (note: 5¥ (Yuan) ≈ 1 Australian Dollar). The money is used for such things as the Nationwide Physical Fitness Program, to help China's western regions and less developed regions fund sports programs and supplement the budgets of major sports events.
National Lotteries in European countries are closely connected to funding 'good causes', particularly sport. Twenty-four of the 28 European Union nations currently conduct national lotteries where some of the proceeds are dedicated to funding sport at elite and/or participation levels. The available data does not indicate exactly how each country distributes its contribution to sport (i.e. athlete or program support, facilities, etc.).
In absolute terms (2015 figures), there are five countries that made a substantial contribution to sport through lottery funding, they are: UK (€731 million), Germany (€400 million), France (€223 million), Finland (€150 million) and Poland (€148 million); this accounts for about 80% of all lottery contributions to sport in Europe. If the total payments per country are divided by population the ranking of the top five countries looks different; Cyprus (€33.5 per person), followed by Finland (€27.8), Denmark (€17.2), UK (€17.2) and Austria (€9.5). [Note: 1€ ~ £0.88 ~ $1.5 Australian dollar]
Employment figures from 2012 related to lottery contributions to 'good causes' had the effect of creating over 26,000 jobs; and economic ties with suppliers created almost 14,000 additional jobs. Hence, the employment multiplier takes the value of 1.5 which implies that every new job created through European member lottery payments to sport ensured additionally one-half of another job in Europe. From a country perspective one quarter of all jobs created in this manner were secured in the UK (principally stimulated by the 2012 London Olympic/Paralympic Games). The second-most sport related jobs are generated in Poland, followed by Germany, Finland and France.
The impact of Lotteries as a funding source for European sport, Borrmann J, Fichtinger M, Grohall G, Helmenstein C, Kleissner A, Kerschbaum F Krabb P and Scholtes-Dash K, Sports Econ Austria, Institute of Sport Economics, Vienna (2015).This study addresses the question of whether lottery funding has contributed to the growth of sport, gross value added, and employment in the EU sports sector.
France was one of the first countries in Europe to provide Federal Government funding for sport. Government support for sports dates back to President de Gaulle's Economic Plan of 1958, which made sport a central point for the revival of national pride. Policies were introduced to increase grassroots participation, as well as developing international excellence.
The French Government provides assistance to the sports sector principally through annual grants to the various sport Federations. There are four main objectives of Government funding to the sport sector: (1) grassroots growth and support; (2) performance sport support (3) health promotion through sport, and; (4) sports employment.
Exchequer funding is 'topped up' by a subsidy from the National Lottery. Of particular note within the French system is the emphasis on the Government's employment objective. Much of the contribution made to sport funding from the National Lottery goes toward human resources. The Ministry directly employs some 1,571 sports coaches within the 89 Sports Federations.
The French Government owns a 72% stake in the National Lottery, 'La Francaise des Jeux'. In 2007 (latest available figures) the Lottery contributed €236 million (approximately $354 million Australian) to sport; one-third at the grassroots level and two-thirds at the performance level.
Study on the contribution of the gambling industry to the funding of sports in two member states – the UK and France, Sports Business, report prepared for the European Gambling and Betting Association (2008). This report compares the models used in France and the UK. The UK system is more 'entrepreneurial', while the French system has a strong emphasis on a State run system. Both countries use lottery funding in partial support of elite and participation sport through structured programs. This report provides an analysis of the similarities and differences in the two systems.
The German Sport Lottery, Deutsche Sportlotterie, was established in 2014-15 (replacing other lottery systems that contributed to sport) to improve the financial support provided to emerging and current German national level athletes. Unlike other national lotteries, the German Sport Lottery is solely dedicated to funding high performance sport athletes; not national sporting organisations. A projected breakdown of lottery revenue allocates about 30% as direct athlete support to supplement existing German Sports Aid Foundation (DSH), providing financial assistance to approximately 3,800 elite, emerging elite, and sub-elite athletes; 30% distributed as lottery prizes; 22% on lottery administration; and, 17% to government as a lottery tax.
The Japan Sport Council (JSC) receives funding through the Sports Promotion Lottery known as 'Toto'. In 2012 the JSC distributed funds to 3,070 sports organisations and clubs.
Toto was introduced in 2001 for the purpose of creating a new source of funding for the maintenance and improvement of the sports environment in Japan. The profits from Toto are calculated by deducting payments to prize winners and lottery administration expenses; two-thirds of the profits are then put toward sports promotion activities, whilst the other third is paid to the national treasury. Sports promotion lottery income to the JSC for fiscal year 2019-20 was 1,000,479,000 Yen (note: 77 Yen ≈ 1 Australian Dollar).
The National Lottery allocates about 6% of its profit to sport, half of this is used for sport infrastructure. Elite sport receives about 40% and 'Sport for All' about 10%. Funds are distributed through the National Olympic Committee (NOC) and National Sports Federations (NSF). The NOC/NSF has three primary sources of income – Government, National Lottery, and corporate partners. [source: NOC/NSF]
In 2015 the Dutch government contributed approximately €70 million and the National Lottery €50 million; corporate sponsorship contributed about €10 million. The largest source of funding for sport comes from local government in the form of infrastructure and on-going support to local organisations; this totals about €1 billion annually (note: 1 Euro ≈ 1.5 Australian Dollar).
New Zealand supports sport (in part) through national lottery proceeds. A variety of arts, cultural, sporting and community groups receive funding through the New Zealand Lotteries Commission. The Lottery Grants Board was set up by Parliament to benefit the community by distributing the profits from the games run by Lotto New Zealand. In 2019 the NZ Lottery Commission distributed a total of NZ$261 million. From this total NZ$54.8 million went to Sport New Zealand.
The National Lottery is managed by a government agency, the Korea Lottery Commission. It has the authority to issue, sell, and manage lottery products, but it entrusts private lottery companies with most of the operational details. The most recent public survey (2013) indicated that 65% of respondents felt the lottery system was good for the country. Priority areas for distributions of net revenue from the National Lottery are: housing subsidy for low-income groups, special welfare projects, disaster relief, welfare support to men of 'national merit' (retired military servicemen), and promotion of cultural/arts/sport.
The Korean Sports Promotion Foundation (KSPO) receives the benefits from two lottery products, Sport TOTO and Proto. Funds are allocated to national sports promotion programs (e.g. grassroots sports and physical activity), and used for the construction of sports infrastructure, such as recreational sports facilities, so that the whole nation can equally enjoy the benefits of sports participation. Since its establishment in 1989 to 2016, KSPO invested about 8749.3 billion KRW into sport. The National Sports Promotional Fund is the driving force of national sports development, accounting for 90.8% of governmental sports budgets in 2017 [source: KSPO].
The potential impact of lottery funding as a contributor to high performance sport is illustrated by the 'success' of Team Great Britain at the Olympic and Paralympic Games. During the period 1995 through 2016, significant increases in government funding to sport, as well as the introduction of a National Lottery (part of the proceeds going to sport) lifted the UK's Olympic and Paralympic results.
In the United Kingdom the Government, empowered by the National Lottery Act 1993, through the Department of Culture, Media and Sport, appoints and directs the Gambling Commission, which awards a licence to run the National Lottery. Camelot is the company holding the licence to operate the National Lottery until 2023.
Around 4% of total revenue is spent on operating costs; 28% distributed back to various sectors of the community (including sport); approximately 50% paid out in lottery prizes; 5% in sales commission to retailers; and 12% to the Government in Lottery Duty. There are 12 independent organisations representing arts, charities, education, the environment, health, heritage, sports, and voluntary organisations that act as distributors of lottery funding. The sport sector organisations include: UK Sport, Sport England, Sport Scotland, Sport Wales, and Sport Northern Ireland. Surveys indicate that more than 60% of the British population regularly plays the Lottery and more than 90% of the adult population has played the National Lottery at least once.
While the percentage of National Lottery distributions to each community sector (i.e. worthy causes) may vary from year-to-year, the long-term approximate distributions by sector are: heritage (20%), sport (17%), arts (16%), health education (15%), charities (12%), environment education (11%), and millennium projects (7%) [source: Department for Culture, Media, and Sport]. The UK Lottery also contributed almost £2.2 billion towards the costs of staging the 2012 Olympic and Paralympic Games in London.
UK Sport is one of 12 designated distributors of National Lottery proceeds. The National Lottery contributed about £337m (approximately $606 million Australian) to the ongoing funding of elite sport in the UK during the post-London Olympic quadrennial, 2013-2017. Since National Lottery funding became available to Olympic and Paralympic sports in 1997, British athletes have substantially improved their international standing, based upon medals won at Olympic and Paralympic Games [source: UK Sport, the National Lottery, funding partners].
In 2019-19 the National Lottery Distribution Fund accounts for sports bodies included: Sport England: £220.2 million; Sport Scotland: £28.7 million; Sport Wales: £15.9 million; Sport Northern Ireland: £9.2 million; UK Sport: £80.9 million; total: £355.2 million [source: National Lottery Distribution Fund Annual Report & Accounts, 2019-20, p45].
Criticism of the UK National Lottery is often grounded as a moral or ethical issue, with the view that a lottery may encourage underage or excessive gambling. The under-age gambling hypothesis has been tested in the UK, survey research conducted in 2001 showed that 47% of children in the UK between the ages of 12 and 15 years had gambled on National Lottery scratch cards and 40% on the main lottery draw; although sports betting in the UK remains illegal for persons under the age of 16 years. These figures did not substantially change in the years leading-up to the London Games, even though greater promotion of the National Lottery and its connection with supporting the London Olympics/Paralympics was in the public eye.
Underage gambling in England and Wales, Research conducted by Ipsos MORI on behalf of the National Lottery Commission (2012). Rates of 'under-age' gambling have stabilised since 2008. The profile of children who have gambled is consistent with previous research, most notably; boys are more likely to gamble than girls. Children from single parent households and households where neither parent works are more likely to gamble, and children who perceive they are not doing well at school are also more likely to say they gamble than those who feel they are doing well academically.
In contrast to survey research that shows a stable gambling rate among UK children (which is illegal), the Parliament has continued to look at the social impacts of various forms of gambling and a continued debate on the pros and cons of gambling remains.
International
There are about 80 countries, worldwide, that have some type of National Lottery.
Further resources and reading
IS THIS INFORMATION COMPLETE?
---
The Clearinghouse for Sport is a sector-wide knowledge sharing initiative, and as such your contributions are encouraged and appreciated. If you would like to suggest a resource, submit a publication, or provide feedback on this topic, please contact us.
Alternatively, if you would like to be kept up to date with research and information published about this topic, please request a research profile setup.